Attention A T users. To access the menus on this page please perform the following steps. 1. Please switch auto forms mode to off. 2. Hit enter to expand a main menu option (Health, Benefits, etc). 3. To enter and activate the submenu links, hit the down arrow. You will now be able to tab or arrow up or down through the submenu options to access/activate the submenu links.

RESEARCH
Journal Articles | Issue Briefs
Research Library
The Office of Rural Health (ORH) is dedicated to the support and advancement of current VA health care providers and the identification, recruitment and development of the next generation of VA providers to care for our rural Veterans. This library contains studies on issues that impact delivery of healthcare and services to rural Veterans
Journal Articles

Usual Care for Rural Veterans With Posttraumatic Stress Disorder
Winter 2017
Grubbs KM, Fortney JC, Kimbrell T, Pyne JM, Hudson T, Robinson D, Moore WM, Custer P, Schneider R, Schnurr PP

Medicaid Expansion Under the Affordable Care Act and Insurance Coverage in Rural and Urban Areas
Winter 2017
Aparna Soni, Michael Hendryx and Kosali Simon

The Effects of Hospital Characteristics on Delays in Breast Cancer Diagnosis in Appalachian Communities: A Population‐Based Study
Winter 2017
Christopher J. Louis, Jonathan R. Clark, Marianne M. Hillemeier, Fabian Camacho, Nengliang Yao and Roger T. Anderson

Task‐Sharing Approaches to Improve Mental Health Care in Rural and Other Low‐Resource Settings: A Systematic Review
Winter 2017
Theresa J. Hoeft, John C. Fortney, Vikram Patel and Jürgen Unützer

Differences in Access to and Use of Electronic Personal Health Information Between Rural and Urban Residents in the United States
Winter 2017
States Alexandra J. Greenberg, Danielle Haney, Kelly D. Blake, Richard P. Moser and Bradford W. Hesse

Advancing the Field of Rural Health Research: Moving Beyond Simply Documenting Rural vs Urban Differences (pages 3–4)
Winter 2017
Tyrone F. Borders

Does the Medicare Part D Decision‐Making Experience Differ by Rural/Urban Location? (pages 12–20)
Winter 2017
Carrie Henning‐Smith, Michelle Casey and Ira Moscovice

Creation of an Interprofessional Teledementia Clinic for Rural Veterans: Preliminary Data.
Spring 2017
Sanae Inagami, MD, MPH, Shasha Gao, PhD; Hassan Karimi, PhD; Martine M. Shendge, MS; Janice C. Probst, PhD; Roslyn A. Stone, PhD

Rural‐Urban Differences in Access to Preventive Health Care Among Publicly Insured Minnesotans
Spring 2017
John Loftus, Elizabeth M. Allen, Kathleen Thiede Call and Susan A. Everson‐Rose

Variation in Networks and Forms of Support for Care‐Seeking Across the HIV Care Continuum in the Rural Southeastern United States
Spring 2017
Miranda Hill, Amber Huff and Neale Chumbler

Remote eye care screening for rural veterans with Technology-based Eye Care Services: a quality improvement project.
Spring 2017
Maa AY, Wojciechowski B, Hunt K, Dismuke C, Janjua R, Lynch MG

Body Mass Index and Rural Status on Self‐Reported Health in Older Adults: 2004‐2013 Medicare Expenditure Panel Survey
Spring 2017
John A. Batsis, Karen L. Whiteman, Matthew C. Lohman, Emily A. Scherer and Stephen J. Bartels

Educating Physicians for Rural America: Validating Successes and Identifying Remaining Challenges With the Rural Medical Scholars Program
Spring 2017
John R. Wheat, James D. Leeper, Shannon Murphy, John E. Brandon and James R. Jackson

Rural Hospital Employment of Physicians and Use of Cesareans and Nonindicated Labor Induction
Spring 2017
Shailendra Prasad, Peiyin Hung, Carrie Henning‐Smith, Michelle Casey and Katy Kozhimannil

Community Paramedicine Applied in a Rural Community
Spring 2017
Kevin J. Bennett, Matt W. Yuen and Melinda A. Merrell

Differences in Women's Use of Medical Help for Becoming Pregnant by the Level of Urbanization of County of Residence in Georgia (pages 41–49)
Winter 2016
Helen B. Chin, Michael R. Kramer, Ann C. Mertens, Jessica B. Spencer and Penelope P. Howards

Careful Conversations and Careful Sex: HIV Posttesting Experiences Among African American Men in Rural Florida (pages 62–70)
Winter 2016
Tiffiany M. Aholou, Madeline Y. Sutton and Emma (E.J.) Brown

Mental Health First Aid in Rural Communities: Appropriateness and Outcomes (pages 82–91)
Winter 2016
Jean A. Talbot, Erika C. Ziller and Donald A. Szlosek

Neonatal Abstinence Syndrome in West Virginia Substate Regions, 2007‐2013 (pages 92–101)
Winter 2016
Meagan E. Stabler, D. Leann Long, Ilana R. A. Chertok, Peter R. Giacobbi Jr., Courtney Pilkerton and Laura R. Lander

Long‐Term Trends in Black and White Mortality in the Rural United States: Evidence of a Race‐Specific Rural Mortality Penalty (pages 21–31)
Spring 2016
Wesley James and Jeralynn S. Cossman

Effects of the Affordable Care Act's Dependent Coverage Mandate on Private Health Insurance Coverage in Urban and Rural Areas (pages 5–11)
Winter 2016
Kevin A. Look, Nam Hyo Kim and Prachi Arora

Assessing Differences in the Availability of Opioid Addiction Therapy Options: Rural Versus Urban and American Indian Reservation Versus Nonreservation (pages 102–109)
Spring 2016
Katherine A. Hirchak and Sean M. Murphy

A Community Partnership to Respond to the Heroin and Opioid Abuse Epidemic (pages 110–113)
Spring 2016
Laura C. Palombi, Joe Vargo, Laura Bennett, Jared Hendler, Paul Coughlin, Greta Winter and Amy LaRue

Rural Healthcare Workforce: A Systematic Review [Internet].
Winter 2015
Hempel S, Gibbons MM, Ulloa JG, Macqueen IT, Miake-Lye IM, Beroes JM, Shekelle P.

The Relationship Between Pregnancy Prevention and STI/HIV Prevention and Sexual Risk Behavior Among American Indian Men (pages 50–61)
Winter 2015
Elizabeth Rink, Kristofer FourStar and Michael P. Anastario

Understanding Treatment Gaps for Mental Health, Alcohol, and Drug Use in South Dakota: A Qualitative Study of Rural Perspectives (pages 71–81)
Winter 2015

Differences Among States in Rural Veterans' Use of VHA and Non‐VHA Hospitals (pages 32–40)
Fall 2015
Alan N. West, William B. Weeks and Mary E. Charlton

Adapting the Index of Relative Rurality (IRR) to Estimate Rurality at the ZIP Code Level: A Rural Classification System in Health Services Research.
Spring 2015
Sanae Inagami, MD, MPH, Shasha Gao, PhD; Hassan Karimi, PhD; Martine M. Shendge, MS; Janice C. Probst, PhD; Roslyn A. Stone, PhD

VA Telemedicine: An Analysis of Cost and Time Savings.
Spring 2015
Russo JE, McCool RR, Davies L

Forging New Paths to Integrate Rural Veterans' Care Nationwide
The Journal of Rural Health, Fall 2016
Jennifer Lee, MD; Gina Capra, MPA; and Thomas Klobucar, PhD

Benefits and Challenges of Delivering Tele-rehabilitation Services to Rural Veterans.
September 2016
Cary, MP Jr; Spencer, M; Carroll, A; Hand, DH; Amis, K; Karan, E; Cannon, RF; Morgan, MS; Hoenig, HM

Pre-Implementation Strategies to Adapt and Implement a Veteran Peer Coaching Intervention to Improve Mental Health Treatment Engagement Among Rural Veterans
September 2016
Koenig CJ; Abraham, T; Zamora, KA; Hill C; Kelly PA; Uddo M; Hamilton M; Pyne JM; Seal KH

The utilization of video-conference shared medical appointments in rural diabetes care.
September 2016
Tokuda, L; Lorenzo, L; Theriault, A; Taveira, TH; Marquis, L; Head, H; Edelman, D; Kirsh, SR; Aron, DC; Wu, WC

An individually-tailored smoking cessation intervention for rural Veterans: a pilot randomized trial.
August 2016
Vander Weg MW; Cozad AJ; Howren MB; Cretzmeyer M; Scherubel M; Turvey C; Grant KM; Abrams TE; Katz DA

Mixed-Methods Study of Uptake of the Extension for Community Health Outcomes (ECHO) Telemedicine Model for Rural Veterans With HIV.
August 2016
Moeckli, J; Stewart, KR; Ono, S; Alexander, B; Goss, T; Maier, M; Tien, PC; Howren, MB; Ohl, ME

Race does not predict the development of metastases in men with nonmetastatic castration-resistant prostate cancer.
August 2016
Whitney, CA; Howard, LE; Amling, CL; Aronson, WJ; Cooperberg, MR; Kane, CJ;, Terris, MK; Freedland, SJ

Rural-Urban Differences in the Effect of Follow-Up Care on Postdischarge Outcomes.
August 2016
Toth M; Holmes M; Van Houtven C; Toles M; Weinberger M; Silberman P

Temporal Trends in Geographic and Sociodemographic Disparities in Colorectal Cancer Among Medicare Patients, 1973‐2010.
August 2016
Liang, Peter S.; Mayer, Jonathan D., Wakefield, Jon; Ko, Cynthia W. Ko

Trauma in Veterans With Substance Use Disorder: Similar Treatment Need Among Urban and Rural Residents.
August 2016
Young, LB; Timko, C; Tyler, KA; Grant, KM

Veteran use of health care systems in rural states: Comparing VA and non-VA health care use among privately insured Veterans under age 65
August 2016
Charlton, ME; Mengeling, MA; Schlichting, JA; Jiang, L; Turvey, C; Trivedi, AN; Kizer, KW; West, AN

Insured Veterans' Use of VA and Non-VA Health Care in a Rural State
August 2016
West PhD, Alan N.; Charlton PhD, Mary E.

Overcoming Barriers to Sustained Engagement in Mental Healthcare: Perspectives of Rural Veterans and Providers
August 2016
Fischer, EP; McSweeney, JC; Wright, P; Cheney, A; Curran, GM; Henderson, K; Fortney, JC

A Closer Look at Rural‐Urban Health Disparities: Associations Between Obesity and Rurality Vary by Geospatial and Sociodemographic Factors
August 2016
Cohen, S. A., Cook, S. K., Kelley, L., Foutz, J. D., and Sando, T.A.

Hospital Characteristics are Associated With Readiness to Attain Stage 2 Meaningful Use of Electronic Health Records
July 2016
Jungyeon, PhD, Kim; Ohsfeldt, Robert L.; Gamm, Larry D.; Radcliffe, Tiffany A.; and Luohua Jiang

Hospital Distance and Readmissions Among VA-Medicare Dual Enrolled Veterans
July 2016
Wong, ES; Rinne, ST; Hebert, PL; Cook, MA; Liu, CF

Health and Health Care Access of Rural Women Veterans: Findings from the National Survey of Women Veterans
July 2016
Cordasco, Kristina; Mengeling, Michelle; Yano, Elizabeth; Washington, Donna

A Comparison of Homeless Male Veterans in Metropolitan and Micropolitan Areas in Nebraska: A Methodological Caveat.
December 2015
Tsai, J; Ramaswamy, S; Bhatia, SC; Rosenheck, RA

Randomized Trial of Telegenetics vs. In-Person Cancer Genetic Counseling: Cost, Patient Satisfaction and Attendance.
December 2015
Buchanan AH; Datta SK; Skinner CS; Hollowell GP; Beresford HF; Freeland T; Rogers B; Boling J; Marcom PK; Adams MB

Barriers and Facilitators to Veterans Administration Collaboration with Community Providers: The Lodge Project for Homeless Veterans
September 2015
Margaret Cretzmeyer PhD, MSW, Jane Moeckli PhD and William Ming Liu PhD

Psychotherapy Utilization Among Rural and Urban Veterans From 2007 to 2010.
Summer 2015
Mott, JM; Grubbs, KM; Sansgiry, S; Fortney, JC; Cully, JA

Variation in Utilization of Health Care Services for Rural VA Enrollees With Mental Health-Related Diagnoses.
Summer 2015
Johnson, CE; Bush, RL; Harman, J; Bolin, J; Evans, Hudnall G; Nguyen, AM

Geographic and racial/ethnic variations in patterns of multimorbidity burden in patients with type 2 diabetes.
January 2015
Lynch, CP; Gebregziabher, M; Axon, RN; Hunt, KE; Payne, E; Egede, LE

Unclaimed Health Care Benefits: A Mixed-Method Analysis of Rural Veterans
July 2014
Wittrock, S., Ono, S., Stewart, K., Reisinger, H. S., and Charlton, M. E.

Teleneurology: successful delivery of chronic neurologic care to 354 patients living remotely in a rural state.
May 2014
Davis LE; Coleman J; Harnar J; King MK

Increasing colorectal cancer screening in an overdue population: participation and cost impacts of adding telephone calls to a FIT mailing program
April 2014
Schlichting, J. A., Mengeling, M. A., Makki, N. M., Malhotra, A., Halfdanarson, T. R., Klutts, J. S., Levy, B. T., Kaboli, P. J., Charlton, M. E.

Feasibility and effectiveness of remote, telephone-based delivery of cardiac rehabilitation
January 2014
Wakefield, B., Drwal, K., Scherubel, M., Klobucar, T., Johnson, S., Kaboli, P.

A pilot randomized controlled trial of a depression and disease management program delivered by phone
November 2013
Aburizik, A., Dindo, L., Kaboli, P., Charlton, M., Dawn, K., Turvey, C.

Evaluation of a Home-Based Colorectal Cancer Screening Intervention in a Rural State
October 2013
Charlton, M. E., Mengeling, M. A., Halfdanarson, T. R., Makki, N. M., Malhotra, A., Klutts, J. S., Levy, B. T., Kaboli, P. J.

Mixed-methods evaluation of a telehealth collaborative care program for persons with HIV infection in a rural setting
September 2013
Ohl, M., Dillon, D., Moeckli, J., Ono, S., Waterbury, N., Sissel, J., Yin, J., Neil, B., Wakefield, B., Kaboli, P.

Regional differences in prescribing quality among elder veterans and the impact of rural residence
Spring 2013
Lund, B. C., Charlton, M. E., Steinman, M. A., Kaboli, P. J.

The Use of Collaboration Science to Define Consensus Outcome Measures: A Telemental Health Case Study
April 2013
Mishkind, M. C., Doarn, C. R., Bernard, J., Shore, J. H.

Provider Barriers to Telemental Health: Obstacles Overcome, Obstacles Remaining
April 2013
Brooks, E., Turvey, C., Augusterfer, E. F.

Reaching rural communities with culturally appropriate care: a model for adapting remote monitoring to American Indian Veterans with posttraumatic stress disorder
April 2013
Brooks E, Novins DK, Noe T, Bair B, Dailey N, Lowe J, Richardson WJ Jr, Hawthorne K, Shore JH.

Antiretroviral adherence among rural compared to urban veterans with HIV infection in the United States
January 2013
Ohl, M. E., Perencevich, E., McInnes, D. K., Kim, N., Rimland, D., Akgun, K., Fiellin, D. A., Skanderson, M., Wang, K., Justice, A.

Evaluation of a Home-Based Colorectal Cancer Screening Intervention in a Rural State
January 2013
Charlton, M. E., Mengeling, M. A., Halfdanarson, T. R., Makki, N. M., Malhotra, A., Klutts, J. S., Levy, B. T., Kaboli, P. J.

Associations between reduced hospital length of stay and 30-day readmission rate and mortality: 14-year experience in 129 Veterans Affairs hospitals
December 2012
Kaboli P. J., Go J. T., Hockenberry J., Glasgow J. M., Johnson S. R., Rosenthal G. E., Jones M. P., Vaughan-Sarrazin M.

A Population Approach to Mitigating the Long-Term Health Effects of Combat Deployments
September 2012
Reisinger, H. S., Hunt, S. C., Burgo-Black, A. L., Agarwal, M. A.

Use and Quality of Care at a VA Outreach Clinic in Northern Maine
July 2012
Lee, P. W., Markle, P. S., West, A. N., Lee, R. E.

Variability in veterans' alcohol use by place of residence
January 2012
Vander Weg M. W., Cai X.

The diffusion of telehealth in rural American Indian communities: a retrospective survey of key stakeholders
January - February 2012
Brooks E, Manson SM, Bair B, Dailey N, Shore JH.

Review of American Indian Veteran Telemental Health
March 2012
Shore J, Kaufmann LJ, Brooks E, et al.

Alabama Veterans Rural Health Initiative: A Preliminary Evaluation of Unmet Health Care Needs
2011
Davis, L. L., Kertesz, S. G., Mahaney-Price, A. F., Martin, M. Y., Tabb, K. D., Pettey, K. M., McNeal, S. F., Granstaff, U. S., Hamner, K., Powell, M. P., Hilgeman, M. M., Snow, A. L., Stanton, M., Parmelee, P., Litaker, M. S., Hawn, M. T.

A Re-conceptualization of Access for 21st Century Healthcare
November 2011
Fortney, J. C., Burgess, Jr., J. F., Bosworth, H. B., Booth, B. M., Kaboli, P. J.

Defining Core Issues in Utilizing Information Technology to Improve Access: Evaluation and Research Agenda
November 2011
Jackson, G. L., Krein, S. L., Alverson, D. C., Darkins, A. W., Gunnar, W., Harada, N. D., Helfrich, C. D., Houston, T. K., Klobucar, T. F., Nazi, K. M., Poropatich, R. K., Ralston, J. D., Bosworth, H. B.

Improving Access to VA Care
November 2011
Fortney, J. Kaboli, P., Eisen, S.

Distance is Relative: Unpacking a Principal Barrier in Rural Healthcare
November 2011
Buzza, C., Ono, S. S., Turvey, C., Wittrock, S., Noble, M., Reddy, G., Kaboli, P. J., Reisinger, H. S.

Promoting Access Through Complementary eHealth Technologies: Recommendations for VA's Home Telehealth and Personal Health Record Programs
November 2011
Hogan, T. P., Wakefield, B., Nazi, K. M., Houston, T. K., Weaver, F. M.

Partnering With Communities to Address the Mental Health Needs of Rural Veterans
Winter 2011
Kirchner, J. E., Farmer, M. S., Shue, V. M., Blevins, D., Sullivan, G.

The cost-effectiveness of telestroke in the treatment of acute ischemic stroke
October 2011
Nelson, R. E., Saltzman, G. M., Skalabrin, E. J., Demaerschalk, B. M., Majersik, J. J.

Tobacco use and exposure in rural areas: Findings from the Behavioral Risk Factor Surveillance System
March 2011
Vander Weg M. W., Cunningham C. L., Howren M. B., Cai X.

VA Community Mental Health Service Providers' Utilization of and Attitudes Toward Telemental Health Care: The Gatekeeper's Perspective
Winter 2011
John Paul Jameson, J. P., Farmer M. S., Head, K. J., Fortney, J., Teal, C. R.

Chapter 6: American Indians and Alaska Natives
2010
Jay H. Shore and Spero M. Manson

Using the Medicare Current Beneficiary Survey to conduct research on Medicare-eligible veterans
2010
Jonk Y., O'Connor H., Schult T., Cutting A., Feldman R., Ripley D. C., Dowd B.

Effect of post-discharge follow-up care on re-admissions among US veterans with congestive heart failure: a rural-urban comparison
April 2010
Muus K. J., Knudson A., Klug M. G., Gokun J., Sarrazin M., Kaboli P.

Defining "Rural" for Veterans' Health Care Planning
Fall 2010
West, A. N., Lee, R. E., Shambaugh-Miller, M. D., Bair, B. D., Mueller, K. J., Lilly, R. S., Kaboli, P. J., Hawthorne, K.

Impact of Rural Residence on Survival of Male Veterans Affairs Patients After Age 65
Fall 2010
MacKenzie, T. A., Wallace, A. E.,Weeks, W. B.

Reaching Out to Older Veterans in Need: The Elko Clinic Demonstration Project
Fall 2010
Juretic, M., Hill, R., Luptak, M., Rupper, R., Bair, B., Floyd, J., Westfield,B., Dailey, N. K.

Rural Residence Is Associated With Delayed Care Entry and Increased Mortality Among Veterans With Human Immunodeficiency Virus Infection
December 2010
Ohl, M., Tate, J., Duggal, M., Skanderson, M., Scotch, M., Kaboli, P., Vaughan-Sarrazin, M., Justice, A.

Chapter 10: American Indian Healers and Psychiatrists: Building Alliances
2009
Jay H. Shore, James H. Shore and Spero M. Manson

Veterans Health Administration and Indian Health Service: healthcare utilization by Indian Health Service enrollees
June 2009
Kramer, B. J.; Wang, M.; Jouldjian, S.; Lee, M. L.; Finke, B.; and Saliba, D.

Telemental health for our soldiers: a brief review and a new pilot program
December 2009
Nieves JE, Candelario J, Short D, and Briscoe G.
ISSUE BRIEFS
Spring 2014
Two VA Studies Examine the Effects of Home-Based Colorectal Cancer Screening and Telephone Follow-Up in a Rural State
Charlton, M. E., Mengeling, M. A., Halfdanarson, T. R., Makki, N. M., Malhotra, A., Klutts, J. S., Levy, B. T., Kaboli, P. J., Schlichting, J. A.
Fall 2013
Improving Access to Specialized Care: The Telehealth Kidney Transplant Clinic at the Iowa City VAMC
Kalil, R., Thomas, C., Winetroub, C., Abel, S.
Summer 2013
Virtual Lifetime Electronic Record (VLER) Health Program Overview: Lessons Learned
Bennett, J., Byrne, C., Roling, L.
A Pilot Randomized Controlled Trial of a Depression and Disease Management Program Delivered by Telephone
Aburizik, A., Dindo, L., Kaboli, P. J., Charlton, M. E., Turvey, C.
Potentially Inappropriate Prescribing Practices in Rural Elder Veterans
Lund, B. C., Kaboli, P. J.
Spring 2013
Mixed-methods Evaluation of a Telehealth Collaborative Care Program for Persons with HIV Infection in Rural Settings
Ohl, M., Dillon, D., Moeckli, J., Ono, S., Waterbury, N., Sissel, J., Yin, J., Neil, B., Wakefield, B., Kaboli, P.
The Lodge Project: A Permanent Housing Model for Homeless Veterans
Cretzmeyer, M., Bermingham, C., Moeckli, J., Liu, W. M.
Improving Accessibility: VISN 11 Mobile Prosthetics Van Program
DeLoof, S., Bravo, G., Howard, E., Rilenge, M.
Unique Factors Rural VA Hospitals Face in Implementing Healthcare-associated Infection Prevention Initiatives
Harrod, M., Manojlovich, M. Kowalski, C. P., Saint, S., Krein, S. L.
Winter 2012
Transfer of Information from Personal Health Records: A Survey of Veterans Using My HealtheVet
Turvey, C. L., Zulman, D. M., Nazi, K. M., Wakefield, B. J., Woods, S. S., Hogan, T. P., Weaver, F. M., McInnes, K.
Antiretroviral Adherence Among Rural Compared to Urban Veterans with HIV Infection in the United States
Ohl, M., Perencevich, E. McInnes, K., Kim, N., Rimland, D., Akgun, K., Fiellin, D., Skanderson, M., Wang, K., Justice, A.
Fall 2012
Geographic Isolation Shows Higher Risk for Chronic Obstructive Pulmonary-Disease Related Mortality: A Cohort Study
Abrams, T. E., Vaughan-Sarrazin, M., Fan, V. S., Kaboli, P. J.
My HealtheVet Users: Preliminary Evidence on Rural Reach and Usage
Woods, S., Nazi, K., Weaver, F., Turvey, C.
Effects of Rural Residence on VA Care of Persons Living with HIV
Rural Residence and Adoption of a Novel HIV Therapy in a National, Equal-access Healthcare System
Ohl, M.E., Lund, B., Belperio, P., Goetz, M., Rimland, D., Richardson, K., Justice, A., Perencevich, E., Vaughn-Sarrazin, M.
Rural Residence is Associated with Delayed Care Entry and Increased Mortality Among Veterans with Human Immunodeficiency Virus Infection
Ohl, M., Tate, J., Duggal, D., Skanderson, M., Scotch, M., Kaboli, P., Vaughn-Sarrazin, M., Justice, A.
Accurate and Timely Diagnosis of Infectious Diseases in Veterans Returning from Iraq and Afghanistan
Borchardt, S., Klug, M. G.
Summer 2012
VISN 16: Developing a VA/Clergy Partnership to Increase Access to Mental Health Services among Rural Veterans
Sullivan, S., Sullivan, G.
Spring 2012
Rural Veterans' Use of CBOCs for Primary Care: FY07
Mengeling, M. A., Charlton, M.
Winter 2011
A Mixed-Method Evaluation of Challenges and Opportunities in the Care of Rural Veterans in VISN 23
Buzza, C., Ono, S., Wittrock, S., Noble, M., Reddy, G., Kaboli, P. J., Reisinger, H. S.
Electronic Health Information Exchange Between VHA System and Private Providers
Mueller, K. J., Lampman, M.
Impact of Tele-ICU Coverage on Patient Outcomes: A Systematic Review and Meta-Analysis
Young, L. B., Chan, P. S., Lu, X., Nallamothu, B. K., Sasson, C., Cram, P.
Expanding Audiology Services to CBOCs: Bringing Care Closer to Veterans
Barrett, D., Dziak, K., Kaboli, P.
VAMC Facility Rurality: Comparison of Three Classification Approaches
Kaboli, P. J., Glasgow, J. M.
Mortality and Revascularization Following Admission for AMI: Implications for Rural Veterans
Abrams, T. E., Vaughn-Sarrazin, M., Kaboli, P. J.
Tobacco Use Among Rural Veterans
Vander Weg, M., Cunningham, C.
Veterans' Environmental Tobacco Smoke (ETS) Exposure
Vander Weg, M., Cunningham, C.
Spring 2011
Veterans Evaluate Telehealth MOVE! VISN 12's Clinical Video Telehealth Initiative
Klobucar, T. F., Wittrock, S., Hughes, I.
---
Download free viewer and reader software to view PDF, video and other file formats.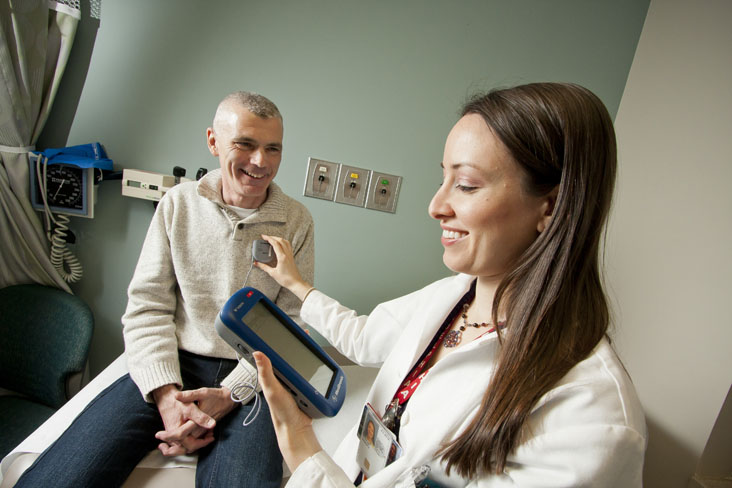 return to top