Attention A T users. To access the menus on this page please perform the following steps. 1. Please switch auto forms mode to off. 2. Hit enter to expand a main menu option (Health, Benefits, etc). 3. To enter and activate the submenu links, hit the down arrow. You will now be able to tab or arrow up or down through the submenu options to access/activate the submenu links.

RESEARCH
Journal Articles | Issue Briefs
Research Library
The Office of Rural Health (ORH) is dedicated to the support and advancement of current VA health care providers and the identification, recruitment and development of the next generation of VA providers to care for our rural Veterans. This library contains studies on issues that impact delivery of healthcare and services to rural Veterans
Director's Commentary
Increasing Rural Veterans' Access to Care Through Research
Summer 2017
Thomas Klobucar, PhD

Forging New Paths to Integrate Rural Veterans' Care Nationwide
Fall 2016
Jennifer Lee, MD; Gina Capra, MPA; and Thomas Klobucar, PhD
Journal Articles
2019
Utilization of Interactive Clinical Video Telemedicine by Rural and Urban Veterans in the Veterans Health Administration Health Care System
Winter 2019
Scott V. Adams PhD, Michael J. Mader PhD, Mary J. Bollinger PhD, Edwin S. Wong PhD, Teresa J. Hudson PhD, Alyson J. Littman PhD

Differences in Receipt of Alcohol-Related Care Across Rurality Among VA Patients Living with HIV with Unhealthy Alcohol Use
Winter 2019
Kara M. Bensley PhD, John Fortney PhD, Gary Chan PhD et al.

Rural and Urban Differences in the Adoption of New Health Information and Medical Technologies
Spring 2019
David A. Haggstrom MD, MAS, Joy L. Lee PhD, Stephanie L. Dickinson MS, Sina Kianersi DVM, Jamie L. Roberts, Evgenia Teal MS, Layla B. Baker MBChB, MPH, Susan M. Rawl PhD, RN

Rural, Rural Identity, and Cancer Control: Evidence from NCI's Population Health Assessment in Cancer Center Catchment Areas Initiative
Spring 2019
Kelly D. Blake ScD, Robert T. Croyle PhD

What Characteristics Influence Whether Rural Beneficiaries Receiving Care from Urban Hospitals Return Home for Skilled Nursing Care?
Spring 2019
Abby F. Hoffman BA, George H. Pink PhD, Denise A. Kirk MS, Randy K. Randolph MRP, George M. Holmes PhD
2018
Best Practices in Videoconferencing Based Telemental Health April 2018
Fall 2018
Jay H. Shore, Peter Yellowlees, Robert Caudill, Barbara Johnston, Carolyn Turvey, Matthew Mishkind, Elizabeth Krupinski, Kathleen Myers, Peter Shore, Edward Kaftarian, and Donald Hilty

Availability of Healthcare Providers for Rural Veterans Eligible for Purchased Care Under the Veterans Choice Act
Spring 2018
Michael E. Ohl, Margaret Carrell, Andrew Thurman, Mark Vander Weg, Teresa Hudson Pharm, Michelle Mengeling, and Mary Vaughan-Sarrazin

Rural-Urban Differences in Costs of End-of-Life Care for the Last 6 Months of Life Among Patients with Breast, Lung, or Colorectal Cancer
Spring 2018
Elizabeth Crouch, Jan M. Eberth, Janice C. Probst, Kevin Bennett and Swann A. Adams

Rural Health Networks: How Network Analysis Can Inform Patient Care and Organizational Collaboration in a Rural Breast Cancer Screening Network
Spring 2018
Beth Prusaczyk, Julia Maki, Douglas A. Luke and Rebecca Lobb

Training Psychologists for Rural Practice: Exploring Opportunities and Constraints
Spring 2018
Marisa Elena Domino, Ching‐Ching Claire Lin, Joseph P. Morrissey, Alan R. Ellis, Erin Fraher, Erica L. Richman, Kathleen C. Thomas and Mitchell J. Prinstein

Expanding Home-based Primary Care to American Indian Reservations and Other Rural Communities: An Observational Study
Spring 2018
B. Josea Kramer, PhD, Beth Creekmur, MA, Michael N. Mitchell, PhD, and Debra Saliba, MD, MPH

A Comparison of Rural and Urban Veterans Health Administration's Home Based Primary Care
Spring 2018
Suzanne Gillespie MD, S. Gillespie, J. Karuza, T. Olsan, X. Cai, O. Intrator, J. Li, S. Gao, J. Szydlowski, H. Temkin-Greener, B. Kinosian and T. Edes

Rural Primary Care Providers' Experiences and Knowledge Regarding LGBTQ Health in a Midwestern State
Summer 2018
John Shaver, BSN, Akshay Sharma, PhD, Rob Stephenson, PhD

Geographic Expansion of Federally Qualified Health Centers 2007-2014
Fall 2018
Chiang-Hua Chang, Julie P.W. Bynum, Jon D. Lurie

Facilitators and Barriers to Seeking Mental Health Care Among Primary Care Veterans with Posttraumatic Stress Disorder
Fall 2018
Possemato K, Wray LO, Johnson E, Webster B, Beehler GP

Patterns of Telehealth Use Among Rural Medicaid Beneficiaries
Fall 2018
Jean A. Talbot, PhD, Amanda R. Burgess, MPPM, Deborah Thayer, MBA, Lily Parenteau, MPH, Nathan Paluso, MPH, Andrew F. Coburn PhD

Suicide Trends and Rural Communities: Federal, State and Local Resources
Fall 2018
Alexander F. Ross, ScD, Sara T. Afayee MSWPhD

Cigarette Smoking Rates Among Veterans: Association with Rurality and Psychiatric Disorders
Fall 2018
Coughlin LN, Wilson SM, Erwin MC, Beckham JC; VA Mid-Atlantic MIRECC Workgroup, Calhoun PS

Outcomes Comparison in Patients Admitted to Low Complexity Rural and Urban Intensive Care Units in the Veterans Health Administration
Fall 2018
Amy M.J. O'Shea, Spyridon Fortis, Mary Vaughan Sarrazin, Jane Moeckli, W.C. Yarbrough and Heather Schacht Reisinger

Evidence Review-Social Determinants of Health for Veterans
Fall 2018
Duan-Porter W, Martinson BC, Greer N, Taylor BC, Ullman K, McKenzie L, Rosebush C, MacDonald R, Falde S, Wilt TJ

Rooted in the Community: Assessing the Reintegration Effects of Agriculture on Rural Veterans
Winter 2018
Karen Besterman-Dahan PhD, RD, Margeaux Chavez MA, MPH and Eni Njoh MPH

Socioeconomic Variables Explain Rural Disparities in US Mortality Rates: Implications for Rural Health Research and Policy
Winter 2018
Long AS, Hanlon AL, Pellegrin KL

Justice Involvement and Treatment Use Among Rural Veterans
Winter 2018
Finlay AK, Harris AHS, Rosenthal J, et al.

2017
Barriers and Facilitators to Implementation of VA Home-based Primary Care on American Indian Reservations: A Qualitative Multi-case Study
Winter 2017
B. Josea Kramer, Sarah D. Cote, Diane I. Lee, Beth Creekmur and Debra Saliba

Medicaid Expansion Under the Affordable Care Act and Insurance Coverage in Rural and Urban Areas (pages 217–226)
Winter 2017
Aparna Soni, Michael Hendryx and Kosali Simon

Veterans' Location in Health Professional Shortage Areas: Implications for Access to Care and Workforce Supply
Winter 2017
Doyle JM; Streeter RA

Usual Care for Rural Veterans With Posttraumatic Stress Disorder
Winter 2017
Grubbs KM, Fortney JC, Kimbrell T, Pyne JM, Hudson T, Robinson D, Moore WM, Custer P, Schneider R, Schnurr PP

Medicaid Expansion Under the Affordable Care Act and Insurance Coverage in Rural and Urban Areas
Winter 2017
Aparna Soni, Michael Hendryx and Kosali Simon

The Effects of Hospital Characteristics on Delays in Breast Cancer Diagnosis in Appalachian Communities: A Population‐Based Study
Winter 2017
Christopher J. Louis, Jonathan R. Clark, Marianne M. Hillemeier, Fabian Camacho, Nengliang Yao and Roger T. Anderson

Task‐Sharing Approaches to Improve Mental Health Care in Rural and Other Low‐Resource Settings: A Systematic Review
Winter 2017
Theresa J. Hoeft, John C. Fortney, Vikram Patel and Jürgen Unützer

Differences in Access to and Use of Electronic Personal Health Information Between Rural and Urban Residents in the United States
Winter 2017
States Alexandra J. Greenberg, Danielle Haney, Kelly D. Blake, Richard P. Moser and Bradford W. Hesse

Advancing the Field of Rural Health Research: Moving Beyond Simply Documenting Rural vs Urban Differences (pages 3–4)
Winter 2017
Tyrone F. Borders

Does the Medicare Part D Decision‐Making Experience Differ by Rural/Urban Location? (pages 12–20)
Winter 2017
Carrie Henning‐Smith, Michelle Casey and Ira Moscovice

Creation of an Interprofessional Teledementia Clinic for Rural Veterans: Preliminary Data.
Spring 2017
Sanae Inagami, MD, MPH, Shasha Gao, PhD; Hassan Karimi, PhD; Martine M. Shendge, MS; Janice C. Probst, PhD; Roslyn A. Stone, PhD

The Use of Telemental Health to Meet the Mental Health Needs of Women Using Department of Veterans Affairs
Spring 2017
Jessica L. Moreau PhD, MPH, Kristina M. Cordasco MD, MPH, MSHS, Alexander S. Young MD, MSHS, Sabine M. Oishi PhD, MSPH, Danielle E. Rose PhD, MPH, Ismelda Canelo MPA, Elizabeth M. Yano PhD, MSPH, Sally G. Haskell MD and Alison B. Hamilton PhD, MPH

Rural‐Urban Differences in Access to Preventive Health Care Among Publicly Insured Minnesotans
Spring 2017
John Loftus, Elizabeth M. Allen, Kathleen Thiede Call and Susan A. Everson‐Rose

Variation in Networks and Forms of Support for Care‐Seeking Across the HIV Care Continuum in the Rural Southeastern United States
Spring 2017
Miranda Hill, Amber Huff and Neale Chumbler

Remote eye care screening for rural veterans with Technology-based Eye Care Services: a quality improvement project.
Spring 2017
Maa AY, Wojciechowski B, Hunt K, Dismuke C, Janjua R, Lynch MG

Body Mass Index and Rural Status on Self‐Reported Health in Older Adults: 2004‐2013 Medicare Expenditure Panel Survey
Spring 2017
John A. Batsis, Karen L. Whiteman, Matthew C. Lohman, Emily A. Scherer and Stephen J. Bartels

Educating Physicians for Rural America: Validating Successes and Identifying Remaining Challenges With the Rural Medical Scholars Program
Spring 2017
John R. Wheat, James D. Leeper, Shannon Murphy, John E. Brandon and James R. Jackson

Rural Hospital Employment of Physicians and Use of Cesareans and Nonindicated Labor Induction
Spring 2017
Shailendra Prasad, Peiyin Hung, Carrie Henning‐Smith, Michelle Casey and Katy Kozhimannil

Community Paramedicine Applied in a Rural Community
Spring 2017
Kevin J. Bennett, Matt W. Yuen and Melinda A. Merrell

Availability of Long‐Acting Reversible Contraception in Kansas Health Departments
Spring 2017
Tawana Evans, Megha Ramaswamy and Catherine L. Satterwhite

Access to Transportation and Health Care Visits for Medicaid Enrollees With Diabetes
Spring 2017
Leela V. Thomas, Kenneth R. Wedel and Jan E. Christopher

Improvements in Colorectal Cancer Incidence Not Experienced by Nonmetropolitan Women: A Population‐Based Study From Utah
Spring 2017
Brynn Fowler, N. Jewel Samadder, Deanna Kepka, Qian Ding, Lisa Pappas and Anne C. Kirchhoff

Health Differences Among Lesbian, Gay, and Transgender Veterans by Rural/Small Town and Suburban/Urban Setting
Spring 2017
Kauth MR; Barrera TL; Denton FN; Latini DM

Trends and Characteristics of Occupational Suicide and Homicide in Farmers and Agriculture Workers, 1992–2010
Spring 2017
Wendy Ringgenberg, Corinne Peek‐Asa, Kelley Donham and Marizen Ramirez

Rural Medicine Realities: The Impact of Immersion on Urban‐Based Medical Students
Spring 2017
Allison M. Crump, Karie Jeter, Samantha Mullins, Amber Shadoan, Craig Ziegler and William J. Crump

Innovative models for providing clinical pharmacy services to remote locations using clinical video telehealth
Summer 2017
Perdew C; Erickson K; Litke J

Barriers and Facilitators of Colorectal Cancer Screening for Patients of Rural Accountable Care Organization Clinics: A Multilevel Analysis
Summer 2017
Hongmei Wang, Fang Qiu, Abbey Gregg, Baojiang Chen, Jungyoon Kim, Lufei Young, Neng Wan and Li‐Wu Chen

Body Mass Index Category Moderates the Relationship Between Depressive Symptoms and Diet Quality in Overweight and Obese Rural‐Dwelling Adults
Summer 2017
Demetrius A. Abshire, Terry A. Lennie, Misook L. Chung, Martha J. Biddle, Celestina Barbosa‐Leiker and Debra K. Moser

Disparities in the Use of Diabetes Screening in Appalachia
Summer 2017
Jennifer M. Lobo, Roger Anderson, George J. Stukenborg, Anthony McCall, Hyojung Kang, Fabian Camacho and Min‐Woong Sohn

Intensive referral to mutual-help groups: A field trial of adaptations for rural veterans
Summer 2017
Grant KM; Young LB; Tyler KA; Simpson JL; Pulido RD; Timko C

Recognition of the Inaugural "Article of the Year," Rural Health Research Methods, Information Technology, and Veterans' Health Care (pages 237–238)
Summer 2017
Tyrone F. Borders

Correlates of Injection Drug Use Among Rural Appalachian Women
Summer 2017
Michele Staton, Gabriele Ciciurkaite, Jennifer Havens, Martha Tillson, Carl Leukefeld, Matthew Webster, Carrie Oser and Bridgette Peteet

Medication‐Assisted Opioid Treatment Prescribers in Federally Qualified Health Centers: Capacity Lags in Rural Areas
Summer 2017
Emily B. Jones

Rooted in the Community: Assessing the Reintegration Impacts of Agriculture on Rural Veterans
Summer 2017
Besterman-Dahan K, Chavez M, Njoh E

Latent Risk Subtypes Based on Injection and Sexual Behavior Among People Who Inject Drugs in Rural Puerto Rico
Fall 2017
Dane Hautala, Roberto Abadie, Courtney Thrash, Juan Carlos Reyes and Kirk Dombrowski

Rural‐Urban Differences in Medicare Quality Scores Persist After Adjusting for Sociodemographic and Environmental Characteristics
Fall 2017
Carrie Henning‐Smith, Shailendra Prasad, Michelle Casey, Katy Kozhimannil and Ira Moscovice

Psychosocial Correlates of Ever Having a Pap Test and Abnormal Pap Results in a Sample of Rural Appalachian Women
Fall 2017
Kristen P. Mark, Richard A. Crosby and Robin C. Vanderpool

Preventive Dental Checkups and Their Association With Access to Usual Source of Care Among Rural and Urban Adult Residents
Fall 2017
Aishah Khan, Janani R. Thapa and Donglan Zhang

The Role of Primary Care for the Oral Health of Rural and Urban Older Adults
Fall 2017
Julia T. Caldwell, Haena Lee and Kathleen A. Cagney

Safety of Back‐Transfer to Local Hospitals During an Acute Care Hospitalization
Fall 2017
Leah F. Nelson, Karisa K. Harland, Dan M. Shane, Azeemuddin Ahmed and Nicholas M. Mohr

Financial and Health Barriers and Caregiving‐Related Difficulties Among Rural and Urban Caregivers
Fall 2017
Erin D. Bouldin, Lynn Shaull, Elena M. Andresen, Valerie J. Edwards and Lisa C. McGuire

What Aspects of Rural Life Contribute to Rural‐Urban Health Disparities in Older Adults? Evidence From a National Survey
Fall 2017
Steven A. Cohen, Sarah K. Cook, Trisha A. Sando and Natalie J. Sabik

US Health Care Reform and Rural America: Results From the ACA's Medicaid Expansions
Fall 2017
Joseph A. Benitez and Eric E. Seiber

Identifying Variability in Patient Characteristics and Prevalence of Emergency Department Utilization for Mental Health Diagnoses in Rural and Urban Communities
Fall 2017
Shawnda M. Schroeder and Mandi‐Leigh Peterson

Timeliness of Breast Cancer Treatment Within The Alaska Tribal Health System
Fall 2017
Stacy F. Kelley, Gretchen M. Day, Christine A. DeCourtney and Sarah H. Nash

Leveraging Interest to Decrease Rural Health Disparities in the United States
Fall 2017
Meit M, Knudson A

Telehealth-based creative arts therapy: Transforming mental health and rehabilitation care for rural veterans
Fall 2017
Dr. Charles E Levy and Heather Spooner

2016
Surgical Patient Safety Outcomes in Critical Access Hospitals: How Do They Compare? (pages 117–126)
Winter 2016
Nabil Natafgi, Jure Baloh, Paula Weigel, Fred Ullrich and Marcia M. Ward

Changes in Body Mass Index and the Trajectory of Depressive Symptoms Among Rural Men and Women (pages 190–197)
Winter 2016
Jen Jen Chang, Joanne Salas, Maya Tabet, Zachary Kasper, Keith Elder, Holly Staley and Ross C. Brownson

Differences in Women's Use of Medical Help for Becoming Pregnant by the Level of Urbanization of County of Residence in Georgia (pages 41–49)
Winter 2016
Helen B. Chin, Michael R. Kramer, Ann C. Mertens, Jessica B. Spencer and Penelope P. Howards

Careful Conversations and Careful Sex: HIV Posttesting Experiences Among African American Men in Rural Florida (pages 62–70)
Winter 2016
Tiffiany M. Aholou, Madeline Y. Sutton and Emma (E.J.) Brown

Mental Health First Aid in Rural Communities: Appropriateness and Outcomes (pages 82–91)
Winter 2016
Jean A. Talbot, Erika C. Ziller and Donald A. Szlosek

Neonatal Abstinence Syndrome in West Virginia Substate Regions, 2007‐2013 (pages 92–101)
Winter 2016
Meagan E. Stabler, D. Leann Long, Ilana R. A. Chertok, Peter R. Giacobbi Jr., Courtney Pilkerton and Laura R. Lander

Long‐Term Trends in Black and White Mortality in the Rural United States: Evidence of a Race‐Specific Rural Mortality Penalty (pages 21–31)
Spring 2016
Wesley James and Jeralynn S. Cossman

Effects of the Affordable Care Act's Dependent Coverage Mandate on Private Health Insurance Coverage in Urban and Rural Areas (pages 5–11)
Winter 2016
Kevin A. Look, Nam Hyo Kim and Prachi Arora

Assessing Differences in the Availability of Opioid Addiction Therapy Options: Rural Versus Urban and American Indian Reservation Versus Nonreservation (pages 102–109)
Spring 2016
Katherine A. Hirchak and Sean M. Murphy

A Community Partnership to Respond to the Heroin and Opioid Abuse Epidemic (pages 110–113)
Spring 2016
Laura C. Palombi, Joe Vargo, Laura Bennett, Jared Hendler, Paul Coughlin, Greta Winter and Amy LaRue

Geographic Variations of Colorectal and Breast Cancer Late‐Stage Diagnosis and the Effects of Neighborhood‐Level Factors (pages 146–157)
Spring 2016
Yan Lin and Michael C. Wimberly

Rural Women Veterans' Use and Perception of Mental Health Services
Spring 2016
Ingelse K; Messecar D

Individual and Network Correlates of Antisocial Personality Disorder Among Rural Nonmedical Prescription Opioid Users (pages 198–207)
Spring 2016
Rachel V. Smith, April M. Young, Ursula L. Mullins and Jennifer R. Havens

A Closer Look at Rural‐Urban Health Disparities: Associations Between Obesity and Rurality Vary by Geospatial and Sociodemographic Factors (pages 167–179)
Summer 2016
Steven A. Cohen, Sarah K. Cook, Lauren Kelley, Julia D. Foutz and Trisha A. Sando

Mental Health, Racial Discrimination, and Tobacco Use Differences Across Rural‐Urban California (pages 180–189)
Summer 2016
Amenah A. Agunwamba, Ichiro Kawachi, David R. Williams, Lila J. Finney Rutten, Patrick M. Wilson and Kasisomayajula Viswanath

Older Rural‐ and Urban‐Dwelling Appalachian Adults With Mild Cognitive Impairment (pages 208–216)
Summer 2016
Meghan K. Mattos, Beth E. Snitz, Jennifer H. Lingler, Lora E. Burke, Lorraine M. Novosel and Susan M. Sereika

Predicting Financial Distress and Closure in Rural Hospitals (pages 239–249)
Summer 2016
George M. Holmes, Brystana G. Kaufman and George H. Pink

A Community‐Engaged Approach to Collecting Rural Health Surveillance Data (pages 257–265)
Summer 2016
Jini E. Puma, Elaine S. Belansky, Reginaldo Garcia, Sharon Scarbro, Devon Williford and Julie A. Marshall

The State of Nursing Home Information Technology Sophistication in Rural and Nonrural US Markets (pages 266–274)
Summer 2016
Gregory L. Alexander, Richard W. Madsen, Erin L. Miller, Douglas S. Wakefield, Keely K. Wise and Rachel L. Alexander

The State of Nursing Home Information Technology Sophistication in Rural and Nonrural US Markets (pages 266–274)
Summer 2016
Gregory L. Alexander, Richard W. Madsen, Erin L. Miller, Douglas S. Wakefield, Keely K. Wise and Rachel L. Alexander

Hospital Characteristics are Associated With Readiness to Attain Stage 2 Meaningful Use of Electronic Health Records (pages 275–283)
Summer 2016
Jungyeon Kim, Robert L. Ohsfeldt, Larry D. Gamm, Tiffany A. Radcliff and Luohua Jiang

Supporting Caregivers of Rural Veterans Electronically (SCORE) (pages 305–313)
Summer 2016
Bret L. Hicken, Candice Daniel, Marilyn Luptak, Marren Grant, Shirley Kilian and Randall W. Rupper

Trauma in Veterans With Substance Use Disorder: Similar Treatment Need Among Urban and Rural Residents (pages 314–322)
Summer 2016
Lance Brendan Young, Christine Timko, Kimberly A. Tyler and Kathleen M. Grant

Mixed‐Methods Study of Uptake of the Extension for Community Health Outcomes (ECHO) Telemedicine Model for Rural Veterans With HIV (pages 323–331)
Summer 2016
Jane Moeckli, Kenda R. Stewart, Sarah Ono, Bruce Alexander, Tyler Goss, Marissa Maier, Phyllis C. Tien, M. Bryant Howren and Michael E. Ohl

How Would Rural Hospitals Be Affected by Loss of the Affordable Care Act's Medicare Low‐Volume Hospital Adjustment? (pages 227–233)
Fall 2016
Rebecca Garr Whitaker, G. Mark Holmes and George H. Pink

Predictors of Primary Care Physician Practice Location in Underserved Urban or Rural Areas in the United States: A Systematic Literature Review
Fall 2016
Goodfellow A; Ulloa JG; Dowling PT; Talamantes E; Chheda S; Bone C; Moreno G

Utilization of Mental Health Services by Veterans Living in Rural Areas (pages 297–304)
Fall 2016
Judith Teich, Mir M. Ali, Sean Lynch and Ryan Mutter

The Rural PILL Program: A Postdischarge Telepharmacy Intervention for Rural Veterans (pages 332–339)
Fall 2016
Katherine E. Rebello, Jeffrey Gosian, Marci Salow, Pamela Sweeney, James L. Rudolph and Jane A. Driver

Benefits and Challenges of Delivering Tele-rehabilitation Services to Rural Veterans.
Fall 2016
Cary, MP Jr; Spencer, M; Carroll, A; Hand, DH; Amis, K; Karan, E; Cannon, RF; Morgan, MS; Hoenig, HM

Pre-Implementation Strategies to Adapt and Implement a Veteran Peer Coaching Intervention to Improve Mental Health Treatment Engagement Among Rural Veterans
Fall 2016
Koenig CJ; Abraham, T; Zamora, KA; Hill C; Kelly PA; Uddo M; Hamilton M; Pyne JM; Seal KH

The utilization of video-conference shared medical appointments in rural diabetes care.
Fall 2016
Tokuda, L; Lorenzo, L; Theriault, A; Taveira, TH; Marquis, L; Head, H; Edelman, D; Kirsh, SR; Aron, DC; Wu, WC

An individually-tailored smoking cessation intervention for rural Veterans: a pilot randomized trial.
Summer 2016
Vander Weg MW; Cozad AJ; Howren MB; Cretzmeyer M; Scherubel M; Turvey C; Grant KM; Abrams TE; Katz DA

Mixed-Methods Study of Uptake of the Extension for Community Health Outcomes (ECHO) Telemedicine Model for Rural Veterans With HIV.
Summer 2016
Moeckli, J; Stewart, KR; Ono, S; Alexander, B; Goss, T; Maier, M; Tien, PC; Howren, MB; Ohl, ME

Race does not predict the development of metastases in men with nonmetastatic castration-resistant prostate cancer.
Summer 2016
Whitney, CA; Howard, LE; Amling, CL; Aronson, WJ; Cooperberg, MR; Kane, CJ;, Terris, MK; Freedland, SJ

Rural-Urban Differences in the Effect of Follow-Up Care on Postdischarge Outcomes.
Summer 2016
Toth M; Holmes M; Van Houtven C; Toles M; Weinberger M; Silberman P

Temporal Trends in Geographic and Sociodemographic Disparities in Colorectal Cancer Among Medicare Patients, 1973‐2010.
Summer 2016
Liang, Peter S.; Mayer, Jonathan D., Wakefield, Jon; Ko, Cynthia W. Ko

Trauma in Veterans With Substance Use Disorder: Similar Treatment Need Among Urban and Rural Residents.
Summer 2016
Young, LB; Timko, C; Tyler, KA; Grant, KM

Veteran use of health care systems in rural states: Comparing VA and non-VA health care use among privately insured Veterans under age 65
Summer 2016
Charlton, ME; Mengeling, MA; Schlichting, JA; Jiang, L; Turvey, C; Trivedi, AN; Kizer, KW; West, AN

Insured Veterans' Use of VA and Non-VA Health Care in a Rural State
Summer 2016
West PhD, Alan N.; Charlton PhD, Mary E.

Overcoming Barriers to Sustained Engagement in Mental Healthcare: Perspectives of Rural Veterans and Providers
Summer 2016
Fischer, EP; McSweeney, JC; Wright, P; Cheney, A; Curran, GM; Henderson, K; Fortney, JC

A Closer Look at Rural‐Urban Health Disparities: Associations Between Obesity and Rurality Vary by Geospatial and Sociodemographic Factors
Summer 2016
Cohen, S. A., Cook, S. K., Kelley, L., Foutz, J. D., and Sando, T.A.

Hospital Characteristics are Associated With Readiness to Attain Stage 2 Meaningful Use of Electronic Health Records
Summer 2016
Jungyeon, PhD, Kim; Ohsfeldt, Robert L.; Gamm, Larry D.; Radcliffe, Tiffany A.; and Luohua Jiang

Hospital Distance and Readmissions Among VA-Medicare Dual Enrolled Veterans
Summer 2016
Wong, ES; Rinne, ST; Hebert, PL; Cook, MA; Liu, CF

Health and Health Care Access of Rural Women Veterans: Findings from the National Survey of Women Veterans
Summer 2016
Cordasco, Kristina; Mengeling, Michelle; Yano, Elizabeth; Washington, Donna

2015
Characteristics of Farm Equipment‐Related Crashes Associated With Injury in Children and Adolescents on Farm Equipment (pages 127–134)
Winter 2015
Maisha Toussaint, Kayla Faust, Corinne Peek‐Asa and Marizen Ramirez

Rural Bypass for Elective Surgeries (pages 135–145)
Winter 2015
Paula A.M. Weigel, Fred Ullrich, Chance N. Finegan and Marcia M. Ward

Geographic Variation in Treatment and Outcomes Among Patients With AMI: Investigating Urban‐Rural Differences Among Hospitalized Patients (pages 158–166)
Winter 2015
Daniel Bechtold, G.G. Salvatierra, Emily Bulley, Alex Cypro and Kenn B. Daratha

Rural Healthcare Workforce: A Systematic Review [Internet].
Winter 2015
Hempel S, Gibbons MM, Ulloa JG, Macqueen IT, Miake-Lye IM, Beroes JM, Shekelle P.

The Relationship Between Pregnancy Prevention and STI/HIV Prevention and Sexual Risk Behavior Among American Indian Men (pages 50–61)
Winter 2015
Elizabeth Rink, Kristofer FourStar and Michael P. Anastario

Understanding Treatment Gaps for Mental Health, Alcohol, and Drug Use in South Dakota: A Qualitative Study of Rural Perspectives (pages 71–81)
Winter 2015

Differences Among States in Rural Veterans' Use of VHA and Non‐VHA Hospitals (pages 32–40)
Fall 2015
Alan N. West, William B. Weeks and Mary E. Charlton

Adapting the Index of Relative Rurality (IRR) to Estimate Rurality at the ZIP Code Level: A Rural Classification System in Health Services Research.
Spring 2015
Sanae Inagami, MD, MPH, Shasha Gao, PhD; Hassan Karimi, PhD; Martine M. Shendge, MS; Janice C. Probst, PhD; Roslyn A. Stone, PhD

VA Telemedicine: An Analysis of Cost and Time Savings.
Spring 2015
Russo JE, McCool RR, Davies L

A Comparison of Homeless Male Veterans in Metropolitan and Micropolitan Areas in Nebraska: A Methodological Caveat.
Winter 2015
Tsai, J; Ramaswamy, S; Bhatia, SC; Rosenheck, RA

Randomized Trial of Telegenetics vs. In-Person Cancer Genetic Counseling: Cost, Patient Satisfaction and Attendance.
Winter 2015
Buchanan AH; Datta SK; Skinner CS; Hollowell GP; Beresford HF; Freeland T; Rogers B; Boling J; Marcom PK; Adams MB

Barriers and Facilitators to Veterans Administration Collaboration with Community Providers: The Lodge Project for Homeless Veterans
Fall 2015
Margaret Cretzmeyer PhD, MSW, Jane Moeckli PhD and William Ming Liu PhD

Psychotherapy Utilization Among Rural and Urban Veterans From 2007 to 2010.
Summer 2015
Mott, JM; Grubbs, KM; Sansgiry, S; Fortney, JC; Cully, JA

Variation in Utilization of Health Care Services for Rural VA Enrollees With Mental Health-Related Diagnoses.
Summer 2015
Johnson, CE; Bush, RL; Harman, J; Bolin, J; Evans, Hudnall G; Nguyen, AM

Geographic and racial/ethnic variations in patterns of multimorbidity burden in patients with type 2 diabetes.
January 2015
Lynch, CP; Gebregziabher, M; Axon, RN; Hunt, KE; Payne, E; Egede, LE

2014 - 2009
To view past articles, please click here.
ISSUE BRIEFS
Summer 2018
Intensive Care Units (ICU) Telemedicine Reduces Inter-Hospital ICU Transfers in the Veterans Health Administration
Spyridon Fortis, MD and Heather Schacht Reisinger, PhD A.
Spring 2014
Two VA Studies Examine the Effects of Home-Based Colorectal Cancer Screening and Telephone Follow-Up in a Rural State
Charlton, M. E., Mengeling, M. A., Halfdanarson, T. R., Makki, N. M., Malhotra, A., Klutts, J. S., Levy, B. T., Kaboli, P. J., Schlichting, J. A.
Fall 2013
Improving Access to Specialized Care: The Telehealth Kidney Transplant Clinic at the Iowa City VAMC
Kalil, R., Thomas, C., Winetroub, C., Abel, S.
Summer 2013
Virtual Lifetime Electronic Record (VLER) Health Program Overview: Lessons Learned
Bennett, J., Byrne, C., Roling, L.
A Pilot Randomized Controlled Trial of a Depression and Disease Management Program Delivered by Telephone
Aburizik, A., Dindo, L., Kaboli, P. J., Charlton, M. E., Turvey, C.
Potentially Inappropriate Prescribing Practices in Rural Elder Veterans
Lund, B. C., Kaboli, P. J.
Spring 2013
Mixed-methods Evaluation of a Telehealth Collaborative Care Program for Persons with HIV Infection in Rural Settings
Ohl, M., Dillon, D., Moeckli, J., Ono, S., Waterbury, N., Sissel, J., Yin, J., Neil, B., Wakefield, B., Kaboli, P.
The Lodge Project: A Permanent Housing Model for Homeless Veterans
Cretzmeyer, M., Bermingham, C., Moeckli, J., Liu, W. M.
Improving Accessibility: VISN 11 Mobile Prosthetics Van Program
DeLoof, S., Bravo, G., Howard, E., Rilenge, M.
Unique Factors Rural VA Hospitals Face in Implementing Healthcare-associated Infection Prevention Initiatives
Harrod, M., Manojlovich, M. Kowalski, C. P., Saint, S., Krein, S. L.
Winter 2012
Transfer of Information from Personal Health Records: A Survey of Veterans Using My HealtheVet
Turvey, C. L., Zulman, D. M., Nazi, K. M., Wakefield, B. J., Woods, S. S., Hogan, T. P., Weaver, F. M., McInnes, K.
Antiretroviral Adherence Among Rural Compared to Urban Veterans with HIV Infection in the United States
Ohl, M., Perencevich, E. McInnes, K., Kim, N., Rimland, D., Akgun, K., Fiellin, D., Skanderson, M., Wang, K., Justice, A.
Fall 2012
Geographic Isolation Shows Higher Risk for Chronic Obstructive Pulmonary-Disease Related Mortality: A Cohort Study
Abrams, T. E., Vaughan-Sarrazin, M., Fan, V. S., Kaboli, P. J.
My HealtheVet Users: Preliminary Evidence on Rural Reach and Usage
Woods, S., Nazi, K., Weaver, F., Turvey, C.
Effects of Rural Residence on VA Care of Persons Living with HIV
Rural Residence and Adoption of a Novel HIV Therapy in a National, Equal-access Healthcare System
Ohl, M.E., Lund, B., Belperio, P., Goetz, M., Rimland, D., Richardson, K., Justice, A., Perencevich, E., Vaughn-Sarrazin, M.
Rural Residence is Associated with Delayed Care Entry and Increased Mortality Among Veterans with Human Immunodeficiency Virus Infection
Ohl, M., Tate, J., Duggal, D., Skanderson, M., Scotch, M., Kaboli, P., Vaughn-Sarrazin, M., Justice, A.
Accurate and Timely Diagnosis of Infectious Diseases in Veterans Returning from Iraq and Afghanistan
Borchardt, S., Klug, M. G.
Summer 2012
VISN 16: Developing a VA/Clergy Partnership to Increase Access to Mental Health Services among Rural Veterans
Sullivan, S., Sullivan, G.
Spring 2012
Rural Veterans' Use of CBOCs for Primary Care: FY07
Mengeling, M. A., Charlton, M.
Winter 2011
A Mixed-Method Evaluation of Challenges and Opportunities in the Care of Rural Veterans in VISN 23
Buzza, C., Ono, S., Wittrock, S., Noble, M., Reddy, G., Kaboli, P. J., Reisinger, H. S.
Electronic Health Information Exchange Between VHA System and Private Providers
Mueller, K. J., Lampman, M.
Impact of Tele-ICU Coverage on Patient Outcomes: A Systematic Review and Meta-Analysis
Young, L. B., Chan, P. S., Lu, X., Nallamothu, B. K., Sasson, C., Cram, P.
Expanding Audiology Services to CBOCs: Bringing Care Closer to Veterans
Barrett, D., Dziak, K., Kaboli, P.
VAMC Facility Rurality: Comparison of Three Classification Approaches
Kaboli, P. J., Glasgow, J. M.
Mortality and Revascularization Following Admission for AMI: Implications for Rural Veterans
Abrams, T. E., Vaughn-Sarrazin, M., Kaboli, P. J.
Tobacco Use Among Rural Veterans
Vander Weg, M., Cunningham, C.
Veterans' Environmental Tobacco Smoke (ETS) Exposure
Vander Weg, M., Cunningham, C.
Spring 2011
Veterans Evaluate Telehealth MOVE! VISN 12's Clinical Video Telehealth Initiative
Klobucar, T. F., Wittrock, S., Hughes, I.
---
Download free viewer and reader software to view PDF, video and other file formats.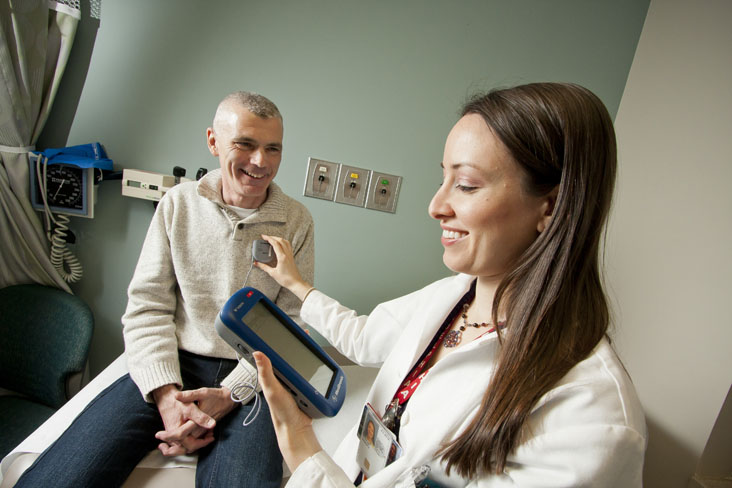 return to top