Feature
Coaching into Care
Inside Rural Health
In The News
For Professionals

---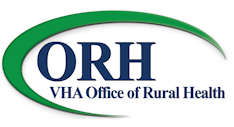 Currently, 3.1 million rural Veterans are enrolled in the VA system. This represents 36% of the total enrolled Veteran population based on the 2010 US Census. Men and women Veterans from geographically rural areas make up a disproportionate share of service members and comprise approximately one-third of the enrolled Operation Enduring Freedom and Operation Iraqi Freedom (OEF/OIF) Veterans; many of whom are returning to their rural communities. In order to better serve rural Veterans, the VA created the Office of Rural Health in 2007.
We've moved! The VHA Office of Rural Health is now located at 1100 1st NE, Washington, DC. The main ORH telephone number is 202-632-8578.
Contact the Office of Rural Health. All media inquiries should contact rural.health.inquiry@va.gov.
---
Download free viewer and reader software to view PDF, video and other file formats.

VA Facilities and Service Locator
VA Voluntary Services | VHA Office of Health Information | Office of Mental Health
Office of Care Coordination Services (Telehealth) | Geriatrics and Extended Care | Homeless Veterans
Center for Minority Veterans | Women Veterans Health Care