"The Clergy Connection" Newsletter
"The Clergy Connection" Newsletter
---
---
---
View past issues of "The Clergy Connection" in the newsletter archive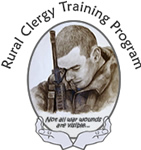 May 2013 - Page 1
Newsletter of the National VA Chaplain Center
Rural Clergy Training Program
Act as if what you do makes a difference. It does. ~ William James
---
New Research: Religious and Spiritual Factors in Depression
This study reviewed the research literature between 1964-2010 on the relationship between Religious/Spiritual beliefs and practices (R/S) and depression (Dep) in a non-military population. It is included here as a foundation for further review with military populations in future newsletters. R/S was usually measured by a self-report of the importance of R/S to an individual's life. Of the 444 articles reviewed, 67% found that people with a high level of R/S tended to have lower levels of Dep. Most studies also found that those with a high level of R/S but who were depressed showed faster recovery from Dep. These findings suggest that strengthening R/S beliefs and practices may protect those in your congregation against Dep. However, there was an important exception. Individuals with high levels of R/S who were having marital or family problems tended to show higher levels of Dep. This finding is important since both Dep and family problems are positively related to completed suicides. This relationship will be explored in more detail in a future newsletter.
Want more information? See the source: Depression Research and Treatment, 2012 at www.hindawi.com/journals/drt/2012/962860
How to Make a Referral
to the VA
If you want to make a referral for a Veteran, Reserve or Guard member, please remember to ask the permission of the warrior before contacting us as a matter of respect. To make a referral or to gain additional information, telephone the Chaplain Service at the VA Medical Center nearest to your location (941 KB, PDF). Direct phone numbers were provided to workshop attendees on a magnet and in a more detailed paper handout.

Confidential help for Veterans
and their Families
Your Story Matters
Results from our 2010 after-training surveys showed very high ratings for our training events. There was, however, one weak point. Many community clergy remained unsure how to make an effective referral for mental health services for Veterans or military personnel in need. While 87.6%-99.5% of workshop participants rated most components of the workshop very positively, only 80.5% rated the item related to referrals very positively. After careful study and planning, our staff designed and implemented a simplified mechanism for making referrals, one that involved initial clergy-to-clergy contact. Results from 2012 after-training surveys indicated a rating of 96.6%, showing the greatest improvement among rated components of the training.
In 2012, a new addition to our programming was providing information for referring Veterans and military personnel to local community mental health staff. Survey results indicated less effective training in this area than that for training about referrals to the VA. Improving training on referrals to community mental health will be a focus of 2013 workshops.
---
The Clergy Connection is a publication of the Office of Rural Health (ORH) and National VA Chaplain Center "Rural Clergy Training Program." For more information, contact: Jim Goalder, jim.goalder@gmail.com.
Download free viewer and reader software to view PDF, video and other file formats.